popup-box
St John the Baptist Catholic Primary School is commited to safeguarding and promoting the welfare of children and young people and expects all staff and volunteers to share this commitment.
WELCOME
Welcome to St. John the Baptist RC Primary School website.
I hope it helps you to find all the information you need about the school. Please see my full welcome on "Our School" page.
Michael Unsworth, Head Teacher
If you have a concern about the schools data protection practice, you can contact our Data Protection Officer on DPOSchools@Rochdale.Gov.UK
Please click on this link to read our Data Privacy Notice
TWO MINUTE CHALLENGE
On the 6 July St. Johns RC Primary School participated in the Skip 2 B Fit 2 minute challenge. The Skip 2 B Fit team were here to promote skipping as a fitness for everyone. The children and the teachers enjoyed the day that was full with fun and laughter.
Well done to everyone who participated.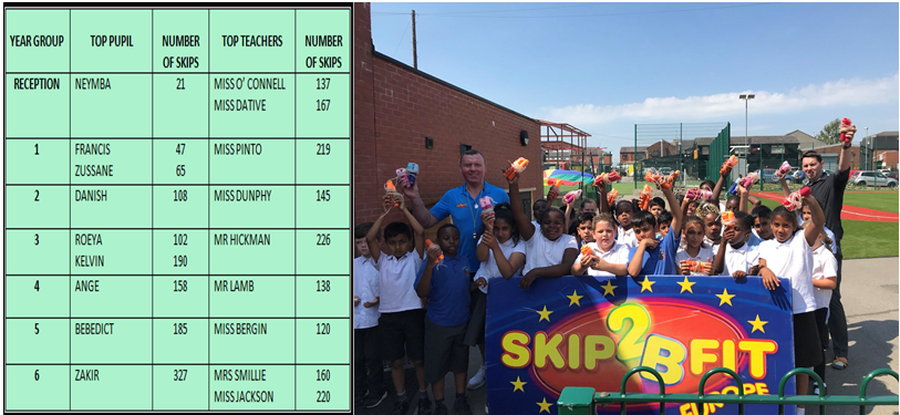 INSTALLATION OF OUR NEW FISH TANK HAS TAKEN PLACE
Continuing our theme of God's Creations and helping children to be aware of our environment, we have had a beautiful fish tank installed.
Below: Our Eco team are pictured in front of the tank, unfortunately the fish are hiding under the stones!
ROCKPOOL CREATURES
We have been celebrating God's creations by looking at rock pools and the creatures we find there – starfish, crabs, urchins, etc. - in preparation of the installation of an aquarium outside our collective worship area.
Children enjoyed the experience of holding and learning about how the creatures survive in the sea.
Join us for a joyful celebration of our faith with
John Burland – educator and composer –
at 1.15pm on Friday 6 July in the school hall.
DATES FOR YOUR DIARY

Year 6 Theatre trip 22 June
Hope 1 and 2 Trip to Chester Zoo 20 July
SCHOOL HOLIDAYS
Inset day
School will be closed for pupils on Monday 16 July for one day only.
End of school year
Term ends on Tuesday 24 July and re-opens on Tuesday 4 September (new school year).
TIMES TABLE ROCK WRANGLE
Three of our fastest and most accurate rock stars from year 6, have been selected to take part in the Times Table Rock Wangle event in Bolton on Wednesday, 27 June.
The winning team will enjoy a helicopter ride over the local area of Bolton.