Whole year overview of Year 5
Curriculum Newsletter for Year 5
Today we enjoyed a concert showcasing the skills of our Year 5 playing the Cornet. Everyone did really well and the audience enjoyed a variety of tunes !
The Fox by Margaret Wild
To start the year off, our text based unit was 'The Fox' by Margaret Wild. We used the green screen to imagine what it was like to be the characters and this then helped us to write from the characters' points of view.
The Rainforest
Our first topic this year was 'The rainforest' and we have really enjoyed it. We have learnt many things and now know the location of many rainforests, the different layers of the rainforest and what deforestation is and how it is endangering the planet and its animals. We also loved reading 'The Lorax' by Dr Seuss and discussed how relevant the story is today even though it was written over 90 years ago. Here are some photographs of a lesson where we looked at what it would be like to live in the rainforest.
Brazil
During Autumn 2 our topic was 'Brazil' and we were lucky enough to have a visit from 'The Wild Road Show' where we got to meet lots of different animals from the Amazon rainforest. We found out lots of interesting facts and even got to hold some of these wonderful creatures!
The Suffragettes
During Spring 1, year 5 have loved learning about the suffragettes! We have looked at why women wanted the vote, the main women involved in the suffragette movement and how women managed to eventually get the vote. Our big question was 'Can anybody be a leader?' and we have certainly looked at a lot of leaders! When looking at different leaders, we have focused on great women who have changed the world. Some of our favourites were: Rosa Parks, Anne Frank, Marie Curie, Coco Chanel, Agent Fifi, Amelia Earhart, Emmeline Pankhurst and Emily Davison. Here we are using the green screen pretending to be part of the suffragette riots.
Mary Poppins by P.L Travers
During Autumn 2 and Spring 1 our text based unit is 'Mary Poppins' by P.L Travers. Here is Safah's diary entry from Michael's point of view and the opening to Danyal's character description of Mary Poppins. Well done Safah and Danyal – you've done a super job!
National Storytelling Week
During National Storytelling Week, the school took part in lots of different activities to promote reading for pleasure. Miss Reynolds needed a little help hosting the Dr Seuss story telling assembly, so Year 5 offered to help! Here are some photographs of us wearing our masks from our Storytelling week assembly and also of us having lots of fun with the green screen. (Thank-you for our fabulous masks and props Miss Jackson!)
A trip to The Lowry
Year 5 had a lovely Valentine's Day trip to the theatre! We absolutely loved watching 'Billionaire Boy' by David Williams – we laughed so much! Not only did we think that it was extremely funny, but we were also able to use our literacy skills to compare the play with the book. Most of us had never been to the theatre before and we were very surprised at how big the theatre was and how high up we were!
Learning to play the cornet
During Spring 1 and 2, we have been learning how to play the cornet with Mr Murtagh. We have learnt to read sheet music and how to sing in pitch. We have loved having these music sessions every Wednesday!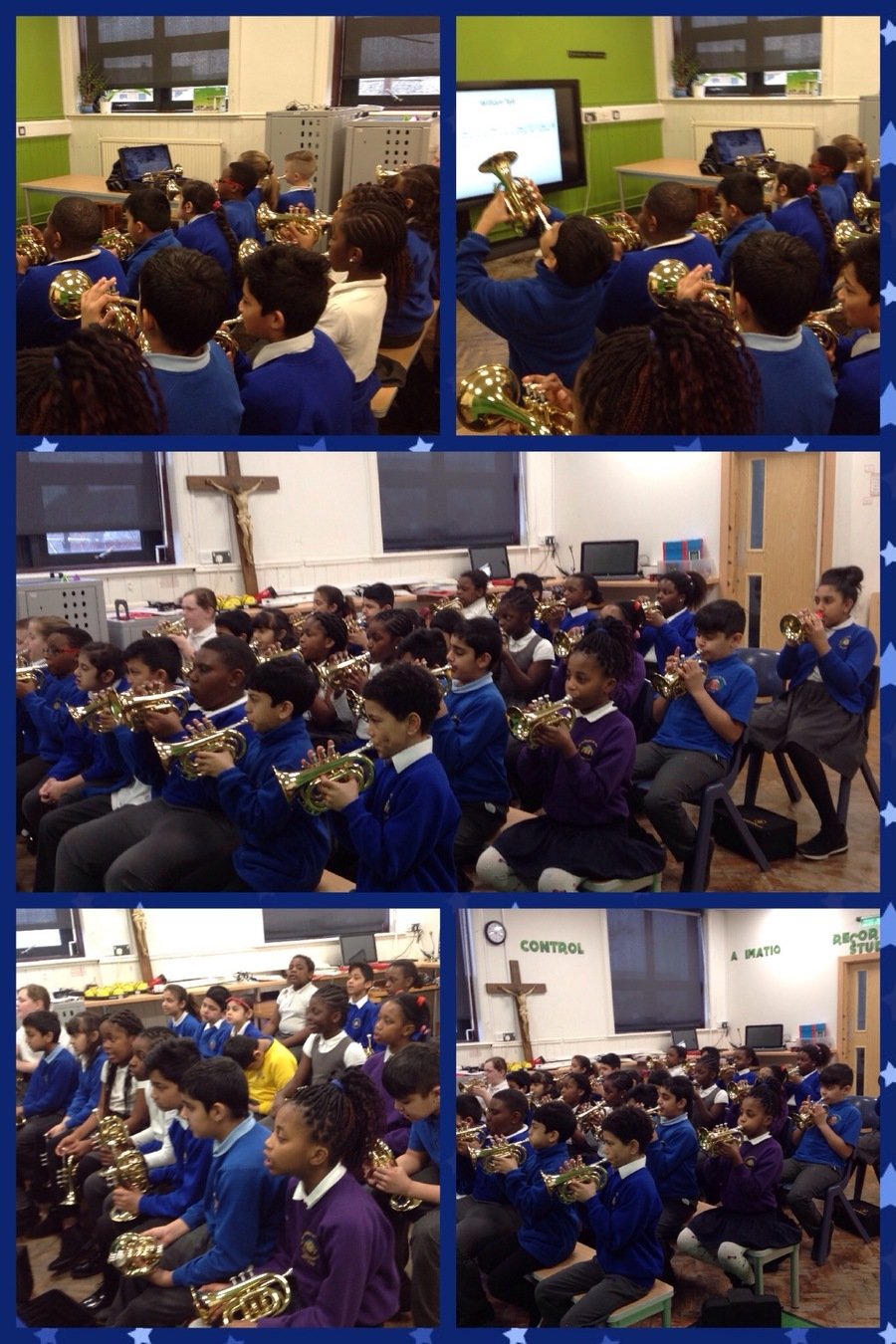 Ancient Egypt
This Half Term our Topic is 'Ancient Egypt' and to start off we were lucky enough to have some Ancient Egyptian artefacts and replicas to look at. We borrowed an 'Ancient Egyptian Loan Box' from Touchstones Museum in Rochdale and loved exploring what was inside! Here is a list of items we looked at and learnt about: the Rosetta Stone, a Hippo Goddess Tauret, a Cat Goddess Bastet, The Goddess Hathor, the mask of Tutankhamun, a Canopic Jar Set, a beaded necklace an Assiyut Basket, a Scarab Beetle Amulet, an Archaeologist's box and equipment and much, much more! Hope you enjoy the photographs of the children exploring these fascinating objects.
World Book Day
This year we celebrated 'World Book Day' a little differently! We all came into school in our pyjamas and focused on bed time stories – we loved it! The whole school's day was centred around Dr Seuss and his books, and by the end of the day we were Dr Seuss experts! (We read 4 different Dr Seuss books in one day!)
Our day started with us all gathering for assembly, where we learnt some interesting facts about this very famous author and Miss Reynolds read 'Oh the places you'll go' to us. Then we went to a different classroom where we had a different teacher and read a different Dr Seuss book! After reading the book, we took part in a very exciting activity. (e.g Making 'Green eggs and ham' biscuits or creating 'Cat in the hat' masks!) Then after break, we visited another classroom, read another book and took part in another exciting activity. After eating lunch in our pyjamas, we returned back to our usual class, read another book and took part in another fun activity. At 2'o'clock, the whole school gathered in the hall, where we shared all of our activities from the day. Once we had shared the activities, we watched a Dr Seuss cartoon with cookies. We loved world book day and can't wait for next year!